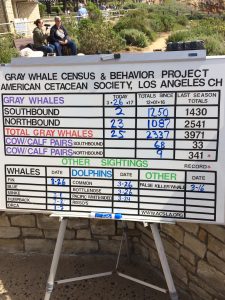 I've been fascinated by gray whales and their amazing annual migration for a long time. This time of year, the grays have left the warm Baja lagoons, many with their newborn calves beside them, swimming to their summer feeding grounds in the Arctic sea 5,000 to 7,000 miles away. This is one of the longest mammal migrations on earth.
Years ago, I discovered the best local cliff-top whale watching spot — Point Vicente in Rancho Palos Verdes. For decades, it's been the primary station of the American Cetacean Society's (ACS) Gray Whale census.
From December through May, teams of expert volunteer spotters watch the waters from sunrise to sunset from an elevated patio. Fully equipped with binoculars and spotting scopes, no blow, fluke or signs of a whale escape them. A few weeks ago, we hung out with the spotters, listening to their calls and the post number location of where a whale was sighted. We saw at least 15 whales.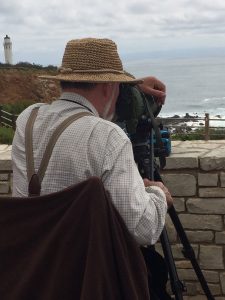 Some of the whales are far out in the ocean. Terri, one of the spotters, pointed out a fin whale's distinctive spout pattern against the horizon even though the whale was almost 2 miles from shore. Many of the grays were close enough to shore to see with binoculars or the naked eye.
Jim and I walked along the oceanside path and at 3:33 pm – a time I always consider lucky, we stopped and sure enough a pair of gray whales were so close I could easily see them. Then one of the whales dove under showing me her beautiful ebony flukes. Double whammy!!
The best viewing time is December through April during their winter and spring migrations. You can follow the grays daily migration and trends at: http://www.acs-la.org/GWCensus.htm. The whales swim 90-100 miles a day, travelling in small pods.
 Adjacent to the viewing spot is a natural history museum with exhibits on the rich natural and cultural history of the Palos Verdes peninsula. The address is 31501 Palos Verdes Drive West.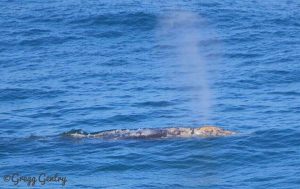 Bring a picnic, a pair of binoculars and have a whale of a day!