I always come back refreshed from Laguna. It's a small, beautiful, artistic beach town with lovely ocean views on walkways that wind through Main Beach all the way to Heisler Beach and beyond.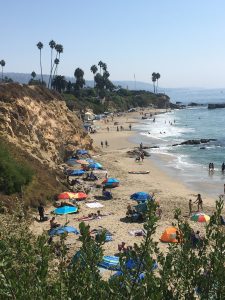 Earlier this month, Christy, Chad and I went to Laguna to remember Jim on his birthday. It was, as always, a special getaway and the first time Chad had been to Laguna.
Laguna Beach in the early 1900's had a population of 300, half of whom were plein air painters drawn to the beauty of this seaside town and its clear air. Now, it's a thriving small community of 23,000 with a focus on arts, dining, and entertainment.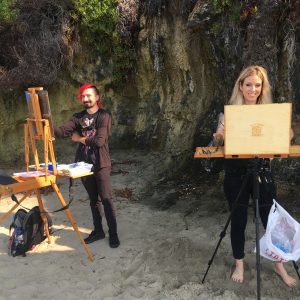 This trip, we stayed at "The Tides" which is across the street from the Royal Hawaiian Fire Grill, which reopened last year after several ownership changes dating back to 1947. It's one of the few restaurants where I'll order a Mai Tai and they mix a really great one. Christy has many good memories of going there as a young child with her parents.
Usually, we stay at my timeshare, Laguna Surf, but it was booked. The Tides is a charming small hotel that my friend, JuliAnne, told me about last year. Very friendly staff and each time we stay there, we're greeted with a handwritten note welcoming us "home." They have a salt-water pool, which we had to ourselves for a couple hours one afternoon.
We drove to the Montage hotel and walked along Treasure Island Park that overlooks the coastline Saturday eve but, by then, the city was swamped with visitors and too crowded for comfort so we headed back to Gina's for pizza and wine.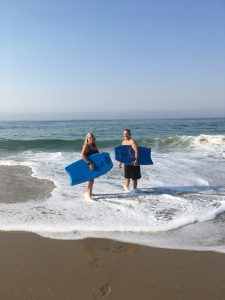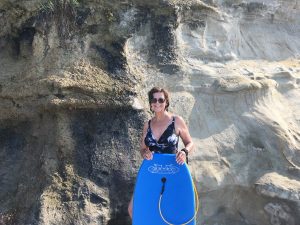 We capped off our last day there with boogie boarding at Heisler Beach but the strong riptide made us cut our ocean time short. Luckily, we each had a few good rides before we hit the beach again. I walked the beach, chatted with artists, took in the views and felt more alive and happy then I had for many months.
Laguna Beach, once again, was the antidote to COVID.
Save
Save
Save
Save
Save