I've visited Philadelphia many times over the past year visiting my good friend.  Duby lives in Chestnut Hill in northwest Philly. It's a charming area that has deep historical roots. When I arrived for my first visit, I kept remarking how green everything was. Majestic cedars, dogwoods, red maples, ash and sycamore trees fan throughout the city. In fact, Philly has 2.9 million trees with a tree canopy that covers 20% of the city.
My first morning there, Duby took me for a walk in nearby Wissahickon Valley Park. We entered it on a dirt path that is less than a block from his home.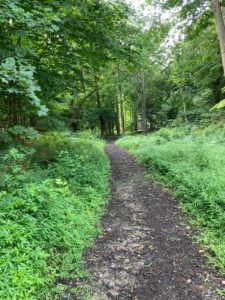 The park's name comes from the Indian Lenape word wisameckham, for "catfish creek", a reference to the fish that were once plentiful in the Wissahickon creek that runs through it, eventually merging into the Schuylkill River.
I walk that park most mornings either alone or with Duby.  Although it's called a park, I experience it as a beautiful forest. The path from the road quickly leads into a canopy of trees. Fallen trees, some covered by fungus and an array of colorful leaves, lay by the side of the path line. If a tree fell across the path, a chunk has been hewn away to allow passage.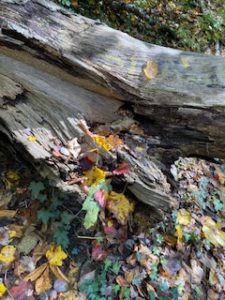 I often sit on one of those massive trees midway through my walk just to relax and take in the sounds and absorb the beauty that surrounds me. Occasionally, a mountain biker, a jogger or a hiker passes by. Once Duby and I met Ellen, an 80-year-old tiny but spry Black woman walking her small dog named Howard. She had on delicate black leather ftats with a leather flower near the toe of the shoe. We talked and she told us that she had been a singer in Europe. Her mother-in-law was a doctor and when she heard Ellen's coloratura soprano voice as a young woman, she sent her to Europe to study voice. Now, she mostly sang in the choir at church. I asked her to sing and she let out a high piercing note that shot through the trees.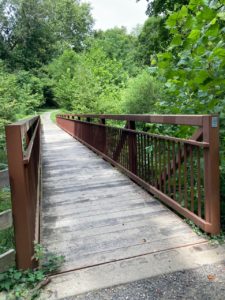 A wooden bridge along the path is a popular spot for people to toss sticks to their dogs into the creek below. The dogs run back and forth between the creek and their owners, tails wagging crazily as they drop the stick for another romp. Dog walkers with 3-4 dogs in tow let their charges off for a refreshing dip. Something about a dog splashing around in water, unaware of anything but the creek and playing is joyful to watch. Not a care in the world!
When I leave the park, I feel refreshed — even though I haven't retrieved a stick or frolicked in the in the creek — I feel joyful!