Seeing the Northern Lights is something I've always wanted to do, but my friend Trina beat me to it. She has graciously shared her photos from a trip she took with husband Bud In 2017.
They embarked on a  photo trip with seven other people to East Greenland with Natural Habitat Adventures, which was led by a friend who is a National Geographic photographer. Although there is no guarantee, they chose September, a month when sightings often occur.
The "northern lights" are shafts or curtains of colored light visible on occasion in the night sky. They're caused by collisions between fast-moving particles (electrons) from space and the oxygen and nitrogen gas in our atmosphere. When billions of these collisions occur, the oxygen and nitrogen in the atmosphere emit enough light for the eye to see them. This ghostly glow can light up the night sky in a dance of colors. Displays take many forms: rippling curtains, pulsating globs, traveling pulses, or steady glows.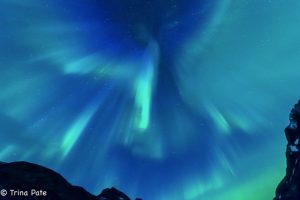 East Greenland is remote, and mostly uninhabited, except for a few subsistence-hunting communities. In fact, East Greenland's people had no contact with the outside world until the beginning of the 20th century.

Their base camp was in a wilderness on the east side of the Sermilik Fjord. It is accessible only by boat or helicopter and is considered one of the most remote places on earth. The camp is surrounded by an electrified wire fence, as there are polar bears in the area. All tents are broken down at the end of the season. The area is then complete wilderness again, with no trace that travelers were ever there.

They spent time exploring the Sermilik Fjord, just below the Arctic Circle. While in the zodiac they wore Mustang Survival floatation suits to protect from foul weather. The Fjord is filled with icebergs of all shapes. The coastline is rugged and surrounded by mountains.
On their very last night at Base camp, they finally saw the northern lights. The display went on for hours and was spectacular! It was a clear night with no light pollution. The lights came from every direction. They finally had to go into their tent because their hands were frozen! The trip was a complete success!
Save
Save